What is Patriotism?
Wait. Stop. Silence the sound of snare drums in your head. Put away the image of a bald eagle. Place to the side, for one just one moment, the American flag. This country was not founded to protect the bald eagle. It was not founded to defend the snare drum. And the American flag in its fully modern form has not been in existence for even half a century.
The snare drums, the bald eagle, the American flag are not what defines patriotism. They are symbols meant to allude to an abiding loyalty to something more fundamental than a drum, a bird or a piece of cloth. But loyalty to what?
Every President, every member of the United States Senate, every member of the House of Representatives takes a binding Oath of Office:
I do solemnly swear (or affirm) that I will support and defend the Constitution of the United States against all enemies, foreign and domestic; that I will bear true faith and allegiance to the same; that I take this obligation freely, without any mental reservation or purpose of evasion; and that I will well and faithfully discharge the duties of the office on which I am about to enter: So help me God.
Not to support and defend the people. All the people living in the United States of America are going to die sooner or later; thereís no defense against that. The United States of America is not defined by its particular people, since they come and go.
Not to support and defend the land lying within the borders of this country. The land itself has been here for billions of years, and will go on for billions of years more with or without the help of Presidents, Senators and Representatives. The United States of America has not been consistently defined by its borders; they have changed in the past and may change again in the future without changing the central character that defines America and American patriotism.
The Constitution of the United States. Every President, Senator, and Representative swears a solemn oath to support and defend the Constitution of the United States. The Constitution of the United States is the test of patriotism. It defines America. It presents the central ideas of Americanism. Love of this nation, and patriotic defense of this nation, are built around the founding document of our constitution.
It is this aim -- the support and defense of the United States Constitution -- that Progressive Patriots is organized to pursue.
Congress Watch
At Progressive Patriots, we strive to spread the word of the Constitution that outlines American patriotism, and to defend the liberties the Constitution guarantees. To this end, we have a U.S. Senate Progressive Index: an indication of support for policies of human progress by your state's two U.S. Senators in the 111th Congress. Also check out our Progressive Action Index for the House of Representatives.

---


Progressive Patriots is brought to you by Irregular Times, the occasional outlet for oracular opinion.

Please direct website-related inquiries to retorts [AT] irregulartimes.com.
Joe Wilson, You Lie. The Time for Health Care Reform is Now.
On September 9, Representative Joe Wilson of South Carolina hoisted his finger, popped his eyes and shouted "You Lie!" when Barack Obama declared that under health care reform he'd support, illegal immigrants wouldn't benefit. Specifically, President Obama said:
There are also those who claim that our reform effort will insure illegal immigrants. This, too, is false Ė the reforms Iím proposing would not apply to those who are here illegally.
Rep. Joe Wilson shouted out at President Obama "You Lie!" in front of the whole country. This is a strong claim, and strong claims need strong evidence. What's the evidence? PolitiFact has done a fact check of Joe Wilson's claims, and says that Joe Wilson is the one who isn't telling the truth. Joe Wilson is the liar.

That's why we're offering this Joe Wilson, YOU Lie Bumper Sticker. Its subtitle reads "Pass Health Care Reform Now."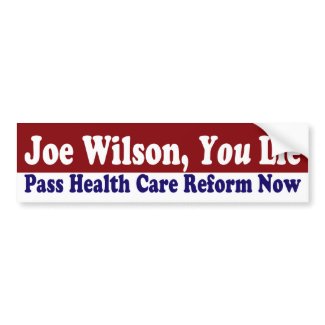 ---
More Recent Articles:
Maine Green Party Posts Continuing Impressive Wins

The Wilder Side sent out a call to the rest of the nation on June 10, 2009 with the following news: In local elections across the states of Maine and Massachusetts in June, four out of the five Green Party candidates for office won their elections. Congratulations go out to: Anna Treverrow, elected to the Portland Charter Commission in Maine Ben Chipman, elected to the Portland Charter Commission in Maine Joyce Palmer-Fortune, elected to the Wheatley Select Board in Franklin County, Massachusetts Nat Fortune, elected to the Wheatley Elementary School Committee in Franklin County, Massachusetts In these localities, the Green Party is a party of increasing success. Will the Green Party become a significant regional American political force to be reckoned with? As confidence in Green party potency and Green policy pr ...(Read Full Article)

Will Hate Crimes Legislation Legalize Sex With Ducks?

Duck Lovin'! Yes, that's the threat, according to 700 Club Televangelist Pat Robertson: "Ladies and gentlemen, think of this. You've met someone who's really weird, and his sexual orientation is to like to have sex with ducks. Is he protected under this hate crimes legislation?" What a question: it's explosive in its potential! Could it be true? Or is Pat Robertson a quack? Well, let's look at the legislation in question, H.R. 1913. Let's look at the bill's full text. Search with me. Hmm. Searching, searching, searching. Hmmmmm... Nope. No references to ducks in H.R. 1913. No references to geese, or game hens, or wild turkeys, or terns, or puffins, or waterfowl of any kind. Now, there are certainly serious constitutional problems with hate crimes laws. Hate crimes laws are unnecessary because the ...(Read Full Article)

---

Montana Green Party Annual Meeting: June 20, 2009

The Montana Green Party, an official affiliate of the Green Party of the United States, will be holding its official annual meeting on June 20, 2009 in Silverstar, Montana. Look for meeting details here. Placed a month before the annual national Green Party meeting at the end of July 2009 in Durham, NC, this state-level meeting is a perfect opportunity for Montana Greens to organize a united front, ready to adv ...(Read Full Article)

---

Democrats Agree To Cover Up Future Torture

May 20, 2009 is a sad day in the history of the Democratic Party. It is the day that the Democratic Party became the party of torture and secrecy.On May 20, 2009, the United States Senate passed amendment 1157 to H.R. 2346 (a military appropriations bill to spend almost a hundred billion dollars on war). Amendment 1157, which some call the Censorship of Photographs of Future Torture Amendment, gave the Secretary of ...(Read Full Article)
Our Complete Set of Progressive Patriots Articles, Ordered in Columns by Date

Brian Froud's coffee-table book Good Faeries/Bad Faeries contains brilliant illustration stretching the human form into ...


It wasn't too long ago that Barack Obama was seen as a beacon of hope for progressive Americans weary of years of attack...


When I think too carefully about the torture carried out by the United States Government in my name, I find myself troub...


America just endured eight years under a President who regarded the Constitution as merely a set of guidelines. If we don't want to repeat the pain of the Bush years, we need to make it clear from the start that the President is subject to the Constitution without exception - that's what the Inauguration lawsuit is about....


An excerpt from the Hug the South rant: Southern America has a lot of North in it, and more of it every year. People ...


Sarah Palin is coddling these terrorists, asking them to be spared the harsh judgment that other terrorists receive, because she agrees with their political aims....


Sarah Palin wrote a letter thanking her the pastor at the Wasilla Assembly of God church for loaning her the video Transformations, which features the story about how Thomas Muthee used his supernatural powers to detect the presence of witchcraft in Kiambu, Kenya, and forced a woman he accused of being a witch to flee town in fear of her life....


Ed Kalnins was so enthusiastic about this real witch hunt that he flew to Kenya himself, and went to Kiambu to see where the with hunt had actually taken place. Kalnins shared the Transformations video with church members, which included Sarah Palin, who shortly afterwards submitted herself to the ceremony to grant her the supernatural protection from witchcraft, so that she could become Governor of Alaska....


Earlier this year, Barack Obama was forced to justify, and finally repudiate, Jeremiah Wright. Why is the Press suddenly silent on controversial pastors? Why are reporters remaining silent about the connection between Pastor Thomas Muthee and Sarah Palin?...


Do I want to help give someone who believes in a divine plan to torture non-Christians, who is willing to start a war with Russia, the power to press The Button, and start a nuclear war?...


With Sarah Palin's permission, Chevron's toxic wastes are poisoning people across the USA. It also means that Alaskans who fish the Cook Inlet are in danger of losing their livelihood. If they can't sell the fish they catch any more, because that fish is a health hazard, then they will go out of business....


There is now only place in the so-called big tent of the Democratic Party for those Americans who go to church. There's a word for this special kind of unity: Division....


It's stated less blatantly than George W. Bush's claim that "God speaks through me", but the meaning is the same. Barack Obama has stated that he thinks it's possible for him to serve as a channel for the will of God....


All I did with this speech is replace John McCain's name with Barack Obama's name. Sadly, the criticism that Barack Obama sent McCain's way now applies to him as well....


We here at Progressive Patriots stand with Mr. Schwarz in criticizing the government's program of undermining the authority of the Constitution in favor of the authority of individual political leaders in the Executive Branch. We engage in this criticism because we love the promise of America, and we want our liberty back....


Children don't understand that Batman is himself a criminal, and a threat to the security of the people of Gotham. They'll never see a movie in which Batman makes a mistake, and persecutes an innocent person he suspects of being an arch-villain. In real life, government agents given the dark vigilante role that Batman represents make those mistakes on a very frequent basis....


Senator Mikulski has become one of the enemies of the Constitution she swore an Oath to work against. That's why Democrats who still care about the Constitution are turning their backs on Barbara Mikulski, and organizing to challenge her right to represent the Democratic Party in the United States Senate when she is up for re-election in 2010....


Saying that the FISA Amendments Act is 'a bill going through Congress giving immunity to telephone companies involved in the Bush administrationís controversial warrantless wiretap programme' is like saying that a giraffe is an animal with ears....


The Million Americans for Obama group actually has only 8,541 members. The top group has 13,431 members, but the anti-FISA Amendments Act group is right behind it, with, 12,614 members, and gaining between 100 and 200 members with every passing hour. By the time today is over, the anti-FISA Amendments Act group on Barack Obama will become the largest grassroots group on BarackObama.com....


Well, that's it. Barack Obama has failed to support the filibuster of H.R. 6304, the bill to gut the Fourth Amendment t...


Shakowsky said, "The Bush Administration has put forward the idea that Congress must choose between the liberties we cherish and the security we demand. I disagree wholeheartedly with this premise. The Congress can and must take stronger steps to protect the civil liberties of ever American, to do anything less is simply contrary to everything for which this country has stood."...


Under this law, all the Bush White House has to do is present a piece of paper to a court claiming the privilege of granting legal immunity to a corporation, and then the court has no choice but to grant that immunity. Thanks to John Dingell for sharing this unfortunate truth....


Barack Obama, who promised during the primaries to uphold the Constitution and end Bush's spying programs if elected President, flip flopped and announced that he would support the law to allow government spying against American citizens without a search warrant. Then he added a real kicker - Obama said that he would continue the Bush spy programs if elected President. Obama said that he would "monitor" the spy programs himself - just like George W. Bush and Dick Cheney monitor them now....


This is the section of the law that allows physical searches of your home or office at the President's whim. It starts out looking like a protection from unreasonable physical searches, but please read all the way to the end. There, you'll find a couple of clauses that strip away all protection from physical search without a warrant, and put the power right into the hands of the President's top aides and political appointees....


They found that George W. Bush and John McCain agree on an overwhelming majority of the issues - 80 percent. You don't get much closer than that, so yes, it's very fair to say that a vote for McCain is a vote for 4 more years of Bush....


America is suffering from record-breaking increases in the cost of gasoline, which is now above four dollars per gallon and is expected to go over five dollars per gallon by the end of the summer. At the same time, the effects of global warming are damaging our economy as well. These problems make now exactly the wrong time to celebrate the gas-guzzling, carbon-spewing, inefficient Corvette with a National Corvette Day....


Congressman Paul Broun from Georgia seems to hate the idea that all Americans are equal under the law. Representative Broun has proposed a new amendment to the Constitution to create a loophole around the 14th amendment. The new amendment aims to reduce the number of marriages in America by restricting marriage to only heterosexual couples. ...


California Republican Representative John Doolittle has added his name in support of H.Res. 598, a bill that proclaims s...


If the Republicans want to play the game of saying that a presidential candidate who doesn't wear an American flag lapel pin must be a murderous anti-American traitor, okay, let's play. Here's a photograph of John McCain at a campaign appearance last week - not wearing a flag lapel pin....


Alternative Apparel profits from the authoritarian regime that keeps Tibet in chains. That's not very alternative, is it? A company can have a nice sounding name, and still do nasty business....


Irregular Times has the full text transcript of the speech in which John Edwards endorsed Barack Obama for President. M...


It's not the job of the federal government to go around declaring which years are best to participate in religion or another. The President of the United States shouldn't be issuing declarations that it's a good year for Christianity in 2008, but not so much in 2009, and that 2010 is a good year to be Buddhist, while Zoroastrianism is just the thing for 2011. ...


This is not one of those twisted right wing circuses in which lies, distortions and crazy conspiracy theories are the entertainment of the evening. We believe in exposing Barack Obama in a positive way, because he's a positive candidate who runs a clean and decent campaign....


Why won't Hillary Clinton listen? Is she just afraid of admitting that she's wrong? That's a frightening personality characteristic to have in a presidential candidate. Besides, the truth is that Hillary Clinton does quote economists all the time - when it suits her needs. Jim over at Irregular Times has put together a long list of quotes of Hillary Clinton citing the opinions of economic experts - elites, as she puts it....


So far, John McCain has not denounced Loren Davis at all. Why? Does John McCain actually believe Loren Davis Ministries, and think that there are satanic conspiracies all across the United States? I can't believe that. The only conclusion I can come to is that John McCain's campaign, knowing about these outlandish slurs, wants them to continue. ...


Think about it. How is an American military urologist working in Iraq supposed to get a hold of the Journal of Urology if it's illegal to purchase it from a military base? Is that urologist supposed to go find an Internet Cafe somewhere in Sadr City, and place an order there, so American law won't be broken? Paul Broun's bill may pretend to be about "honor" and "decency", but the fact is that, if passed, it would put American soldiers at risk....


We progressives understand that someone can wear a lapel pin of the American flag, and wave the flag around a lot, and still betray the principles of liberty, equality and justice that the flag is supposed to represent. That said, Loren Davis and his idea that the American flag is somehow a tool for demonic forces from Hell is quite insane - and another good reminder of the wisdom America's founding fathers had in separating church and state....


George W. Bush has admitted that "I Approved" a meeting of senior Bush administration officials dedicated to approving t...


The Democrats in Ron Paul's district aren't even bothering to run a candidate against the man whose "Revolution" led down a dark alley filled with millions of dollars for Ron Paul to play around with. That's very slick for Ron Paul, but not so slick for the people of the 14th congressional district....


If Steve Pearce loves the oil corporations so much, why doesn't he just go work for them? Oh, wait. That was a dumb question. Steve Pearce is working for the oil corporations already... as a member of the United States Congress....


It's been a crazy day of environmentalist action around the world, with strong protests against the economic infrastructure that delivers the dirty fossil fuels that are burning into accelerating climate change. ...


Some people have tried to limit the scope of the speech, by saying that it is just about confronting racism. The speech is about a great deal more than that. It's about what it means to be an American. It's about how we can reconcile the promise of the American nation, and the reality of American failures, moving forward to form, not a perfect nation, but a more perfect union....


Habeas corpus is your opportunity to prove that the proceedings that have led to your incarceration have been improper or incorrect, or have come to the wrong conclusion. Without habeas corpus, it almost doesn't matter what the law is, because what the law is at that point has almost nothing to do with what the government can do to you. If there is no habeas corpus, it's just a matter that if there are enough people to guard the cell that you're in, then your detention stands....


"Some people like to give and don't particularly like their names to be disclosed... so we'll take that into consideration." Those are the actual words that came out of President Bush's mouth. He plans on taking money from people and from corporations, while President, and not disclosing where the money is coming from....


It seems that Obama is setting up one important foundation of his experience as a campaign asset: His experience as a professor in constitutional law. I just don't hear John McCain, or Hillary Clinton for that matter, talk about the need to restore constitutional rights in the way that Barack Obama does. It's no wonder that Senator Dodd chose Barack Obama to endorse....


A mysterious organization calling itself "Hillary Responders" appeared over this past weekend on the world wide web. Th...


Merrill Lynch and Citigroup lobby for the interests of top investors and gigantic corporations. They lobby against the interests of small Main Street business owners, and John McCain is right there with them....


John McCain said of corporate lobbyists that "they're honorable people, and I'm proud to have them as part of my team". Sending John McCain to clean up Washington D.C. is like using a dirty diaper to wash the kitchen floor....


The FISA Amendments Act gives the government the power to send spies to search your home or office while you are gone, without any search warrant, without any judicial approval at all, and never tell you that they were there. Again, if the FISA Amendments Act becomes law you won't have to even be suspected of a crime. The government will be able to search your home for no reason at all, or for political reasons, or because you're gay, or because you're African-American, or because you're not a member of the right religion, or just because somewhere in the government there is somebody who doesn't like you....


These Democratic Party senators have lost the support of progressive Democrats. Not only will we no longer support these senators for re-election, we will oppose them. We will do whatever we can, within the law, to make sure that they are not re-elected. ...


I read in this morning's news that Arizona Republican Congressman John Shadegg won't be running for re-election this fal...


I am one American who is concerned that John McCain thinks its no big deal to send American soldiers into a war that lasts ten thousand years....


The Bush White House is illegally delaying the polar bear decision by the EPA until after big oil corporations are able to buy leases in the Chukchi Sea, prime polar bear habitat, at rock bottom prices in an auction scheduled for today. ...


George W. Bush has submitted his proposed budget to the U.S. Congress for 2009 - and that proposed budget includes a half a billion dollar cut of funds for renewable energy resources and energy efficiency programs. Without better energy efficiency and an increase in energy from renewable resources, we cannot hope to fight global warming....


John McCain says that he's for open and honest campaign finance. Why, then, is there a shadowy 527 organization called ...


This action will only take you two minutes, one minute per phone call, but it means everything for the future of freedom in the United States of America. Please, don't let the telecom spies take over. It's time for true patriots to stand up in defense of liberty in the USA....


Those young voters who chose Obama so overwhelmingly over Clinton are going to be in the ascendancy four years from now, and the older voters upon whom Hillary Clinton now depends will be smaller in number....


Why should Democrats bother supporting Obama or Clinton when they won't keep their promises to Democratic voters? Why should either Obama or Clinton be made President when they won't do the job they have now as senators? If Clinton and Obama won't act to defend our freedom from illegal government spying now, why should we believe that either one would defend our freedom as President?...


Being an environmental activist is like exercising. Watching an exercise show doesn't do you any good. You've got to do the work yourself. In the case of the environment, a lot of the work has to do with cutting back on the most wasteful luxuries, and figuring out what you really need as opposed to what you're used to having around....


Democratic presidential candidate John Edwards talks a good talk. Senator Russ Feingold knows that all too well. W...


The White House justifies its destruction of the records by saying that doing so is "consistent with industry best practices". What President George W. Bush clearly does not understand is that the federal government of the United States of America is not an industry. Our government is supposed to be of the people, by the people, and for the people. It therefore is expected to follow standards that are higher than those adopted by big business....


The American government will have the power to keep people in prison and torture them, without any trial, merely because the people are suspected by the government of having done something wrong. The people who tortured those British citizens walk free out on the streets....


It was Barack Obama who was the agent of change, speaking out against the coming war, asking Democrats like you to show some backbone. When it comes to change, Hillary Clinton, you're a talker, not a doer. You can't convince people that you're a reformer who will stand up to the Republicans just by dropping the word "change" into your speeches in every other sentence....


The camera doesn't lie. The documented photograph you see in the video here shows Republican presidential candidate Ron...


Hillary Clinton has to deal with the little people, the American people, We The Activists who care enough to vote. No multimillion dollar series of television advertisements is going to buy us off. If Hillary Clinton wants to win, she had better start paying attention to the "second-guessing" coming from the progressive grassroots. If she had listened to our "barrage of second-guessing" back in 2002, she wouldn't have made that tragic vote in favor of starting a war in Iraq....


The problem with Republicans' political ethics is highly contingent. Take the words of George W. Bush, for example. Wh...


Some remarkable advances in science have occurred under the Bush administration. Take, for example, the arrival of the ...


Virginia Foxx used to be against earmarks, but then she was for them, though she promises to be against them some time in the future. Typical Republican doubletalk....


To those Americans who let their knees shake in fear every time they think of September 11, 2001, who agonize about whet...


You know, Bill Clinton was hardly a die-hard progressive president, but at least he understood why progressives place an...


Senator Edward Kennedy skewered George W. Bush's rhetoric on surveillance without a warrant, corporations, and the value...


We have learned since Mark Twain's time that having a vote is not enough. People have to actually use their votes. What's more, people need to use their votes after educating themselves on the relevant issues....




Steve Haze for Congress bumper sticker


Representative Robert Wexler has been using outrage surrounding the impeachment issue to funnel traffic to his re-electi...


In the NPR Presidential Debate of December 4 2007, Democratic presidential candidates were confronted with the sentiment...


When you think of Rudolph Giuliani, think of this name as well: Sheldon Adelson. Only five people in the world are mo...


Are we going to let the people of India defeat us in the competition to restrain greenhouse gas emissions? If you want to be defeatist in this contest, then vote for a right wing politician who won't even try to win. If you want America to be the winner, vote progressive in 2008. ...


On December 4 2007, Steve Inskeep of NPR News asked the Democratic presidential candidates whether they, if elected, wou...


90 songbirds are on the Watchlist, . That makes 41 percent of all the birds listed, more than any other kind of bird. Unless you're willing to accept a sky of diminished song, vote for strong environmental action. Vote progressive in 2008....


"Those who can make you believe absurdities can make you commit atrocities." Voltaire said it centuries ago, but it sti...


In a December 7, 2007 speech on the Senate Floor, Senator Sheldon Whitehouse disclosed the content of previously classif...


Right wing politicians often quote Calvin Coolidge, who said, in defense of the economic status quo, "Don't expect to bu...


Deforestation accounts for 20 percent of the world's greenhouse gas emissions. Reduce deforestation, and you'll reduce ...


Pak Helman, on the island of Sumatra in Indonesia, used to earn the equivalent of one hundred dollars catching shrimp every week. More recently, however, since the jungles in his province have been aggressively logged so as to provide raw materials for the international market, his catch of shrimp has declined to only the equivalent of five dollars per week....


Senator Joseph Biden rejects the notion that in the face of dangerous Chinese-made products, there's not much to be done...


Oh dear, oh dear. Republican presidential candidate Mike Huckabee isn't just claiming that God is on his side in the pr...


Republican presidential candidate Mike Huckabee may have refused to answer a question about Jesus' position on the Death...


This morning, Stuart Brody, chair of the New York State Democratic Rural Conference, sent out a message to other members of the New York State Democratic Committee representing rural counties, admitting that the race in Iowa is now "described as a dead heat... our voice can be especially helpful in Iowa, and then, five days later in New Hampshire"....


Indonesia is not a small country; its population rivals that of the United States. But as an island country it is espec...


Illinois Senator Barack Obama spoke yesterday on the Fall 2007 National Intelligence Estimate regarding Iran, which conc...


The actions of the Greenpeace protesters may have been a form of illegal trespassing, but they were by no means violent. In a free and peaceful society, however, people are not fired at with guns merely for engaging in acts of peaceful civil disobedience....


The Program for International Student Assessment tests 15 year-old students in 30 different countries, including the United States, assessing skills in math and science. The results, as described in the headline of a newspaper article by the Associated Press: "US teens lag behind in science and math"....


In a debate of Democratic Party presidential candidates on December 4 2007, Barack Obama had this to say about improving...


If you don't vote for progressives, you get regressives. Take the state of Texas, where regressive politicians have bee...


A green face animated video discusses the sham promise of Homeland Security, that we can all be safe if only we sacrifice our liberty....


In the Republican YouTube debate of November 2007, presidential candidates Tom Tancredo and Mike Huckabee noted that the...


Alliances of tomato growers are working together to enforce low salaries for tomato pickers in Florida. The Florida Tom...


No matter how cleanly future technology might make burning coal, the process of getting coal out of the ground will remain profoundly filthy. 1200 miles of Appalachian streams have been devastated by a kind of coal mining in which an entire mountaintop is removed in search of coal, and the remaining material is dumped. Every year that this kind of coal mining continues, miles more will be ruined....


Why is it time for a more progressive president? It's a simple matter of numbers; most Americans are asking for one. 5...


There was not one single question allowed on the subject of government surveillance networks spying on the private activities of American citizens, but there was a question to Rudolph Giuliani on whether he is really a fan of the New York Yankees baseball team....


Not a single Republican presidential candidate refused to answer the question, or expressed any concern about the question being asked. They all eagerly submitted themselves to the religious test for public office, and in doing so, signaled their willingness to allow religious authority to subvert the Constitution and the rule of law....


In the Republican presidential debate of November 28 2007, Fred Thompson made a commitment: "Roe v. Wade should be overt...


In the Republican presidential debate of November 28 2007, Fred Thompson declared that in his time as a Senator, "I neve...


The program provides the pollution tracking information to countries free of charge. If we follow the Republican mode of thinking, that's dangerous socialism. If we follow a progressive way of thinking, however, we can see that the Europeans are using their space technology to take care of business, instead of snooping into people's business. ...


Why is it time for a progressive president? Most Americans hold the progressive position on closing the extrajudicial de...


Why is it time for a progressive president? Most Americans hold the progressive position on the 4th Amendment to the Con...


Why is it time for a progressive president? Most Americans hold the progressive position on the issue of habeas corpus. ...


Why is it time for a progressive president? It's a simple matter of numbers. Most Americans hold the progressive posit...


The first line of the new Harry Potter book - Harry Potter and the Half Blood Prince - suggests that the book will take ...


Right wing activists tend to listen best when things are phrased in terms of morality, so I'll try to phrase this ...


Today, we at Irregular Times are starting a new project to help America prepare for the 2008 presidential election. We ...


Reason 13 to vote for a progressive President in 2008 comes to us from the July/August 2006 edition of Sierra Magazine, ...


Reason #14 to elect a progressive President: Reform the Democratic Party from the bottom up and the top down. Every prog...


One of the critical values in the progressive political ethic is the ability to distinguish wants and needs. Progressiv...


Kudos to Kitty Calavita for pointing out in the New York Times letters section this morning that Republican politicians ...


Reason number 18 to elect a progressive President of the United States in 2008: You may not have noticed the article in ...


I grew up watching The Undersea Adventures of Jacques Cousteau. I was fascinated by the marine environments I saw the i...


This year, the issue of illegal immigration has been twisted for political purposes by right wingers in the Republican P...


Over the last few months, I have been working on assembling a list of 2008 reasons to vote for a progressive President i...


The latest reason to elect a progressive President in 2008: Right wingers are using your tax dollars to support right wi...


Tonight, our effort to compile a list of 2008 reasons to elect a progressive President in 2008 is at 1.5 percent. That ...




Unitarians Against War bumper sticker


Electing a progressive President in 2008 is the educated thing to do. That's not just my opinion. I've got...


Two years after the 2004 election, how are the pro-Kerry and pro-Bush states faring? On a variety of measures, it seems...


Real moral values don't have to do with abstract ideas about invisible supernatural beings, or adherence to rules ...


In a refrain that is becoming all-too common from the incoming Democratic leadership in Congress, Congressman Henry Waxm...


Here at Irregular Times, we have made a solemn pledge. We have promised to compile a list of 2008 reasons to elect a pr...


Oh, for Pete's sake! Homeland Security agents kept a guy in jail for twelve hours… and for what? For carry...


The right-wing politicians in control of the 109th Congress had a job. It's a duty they as members of Congress we...


How can the United States of America extricate itself from Iraq in a manner that harms the American and Iraqi prospects ...


According to the United Nations, 3,709 Iraqi civilians were killed during the month of October 16.. That's hundre...


It ought to be the big news of the day, but I'm afraid that it may well be regarded with an indifferent sniff by t...


The moral difference between right wingers and progressives was illustrated by comments made by Religious Right activist...


As of today, we here at Irregular Times have collected 50 reasons to elect a progressive President in 2008. Actually, w...


Reason #56 to Elect a Progressive President in 2008: Our current regressive president, George W. Bush, has done his best...


Progressives understand that basic rights like the freedom from self-incrimination and the right to a fair and speedy tr...


Why vote for a progressive president in 2008? Because the allies of our regressive president are really, really, really...


Progressives believe that the direction American history should be one of increasing individual rights. We agree with d...


Earlier today, I wrote in praise of those who promote the cause of individual freedom, against the nationalist vision co...


The 2008 elections are almost two years away, but now is the time when the stage is being set upon which a limited numbe...


Mother Davis brings us reason #68 to vote for a progressive President in 2008 as she writes, Progressives favor using hu...


Over the last few years, the Republicans have stretched the phrase "up or down vote" so far that it has defo...


Most news outlets treat the contest for the Democratic presidential nomination in 2008 as some kind of competition betwe...


Dick Cheney's daughter, Mary, is unmarried and pregnant, and doesn't even know who the father of the child i...


Reason 76 to elect a progressive President in 2008: Progressives support freedom of religion for everyone, everywhere. ...


While many American right wingers value women who are silent and subservient, progressives have a different kind of mora...


Reason number 78 to elect a progressive President: The right wing has led the USA into a position in which we Americans ...


What does an American conservative do when the war of choice he supported goes badly? Read Jonah Goldberg's lates...


One essential difference between progressives and non-progressives is that progressives don't believe in the magic...


As America begins to consider which candidate to elect as its new President in 2008, it's important to consider ho...


When I first read the right wing news outlet Fox News headline, "Cheney: US Will Work With Allies to Prevent Irani...


It took only 31 minutes for the Republicans to start the racist attacks against Barack Obama. At 7:27 PM, January 15, 2...


Reason #95 out of 2008 to elect a progressive President in 2008 is simple: When even Republican columnist George Will ac...


During a press conference in January of 2007, White House Press Secretary Tony Snow declared that "the President h...


This morning, the team of Irregular Times writers reached a milestone, writing the 101st reason to elect a progressive P...


Reason #103 to Vote for a Progressive President in 2008: Share This ...


Yesterday, reporters Dahr Jamail and Ali al-Fadhily released an article discussing claims that the American war in Iraq ...


America's right wingers start with the demand that no one except a member of their chosen religion, Christianity, ...


Voters in Alaska, if you need a reason to elect a progressive President in 2008, consider what right wing politics has d...


Reason #112 to vote for a real progressive president in 2008: Because there are people out there trying to fool you by f...


The Green Man wrote a few days ago about the drying up of Alaskan lakes, connecting this change to global warming and as...


One of the most basic requirements for being successful in school is actually showing up for school. Overcoming poor sc...


If you believe in the value of physical exercise, that's a good reason to support a progressive presidential candi...


Why vote for a progressive candidate for president in 2008? Because if you don't vote for someone whose politics ...


Reported today: When the Union of Concerned Scientists issued surveys to 1,600 climate scientists within the federal gov...


The FBI appears to have adopted an invasive Internet surveillance technique that collects far more data on innocent Amer...


If we don't elect a progressive President in 2008, we might well have a rain that lasts one thousand years. No, I ...


Early this morning, I happened upon two good reasons to elect a progressive President in 2008. Taken together, these tw...


President George W. Bush himself has supplied our next reason in our growing list of reasons to elect a progressive Pres...


What is Illegal for Americans in Cuba: It is illegal for Americans to travel to Cuba without the permission of the Unite...


The Bush White House has tried to keep Americans as hyped up about the threat of terrorist attack as much as possible. ...


In 2006, many Americans assumed that, if enough Democrats were elected to establish majority control over both houses of...




Asheville Leftist Shirt


Over the last few years, we've done our best to follow the flood of information about the Bush Administration̵...


The tongues wagged with the veneer of outrage: why, Ann Coulter called John Edwards a faggot! Who would have thought we...


In a letter to supporters of the Republican National Committee, Chairman Mike Duncan accused liberal Democrats of being ...


There was a surge in the Iraq War yesterday, a surge of death. First, a bomb blew up in a book market in Baghdad, killin...


The hype about Iraq: "People are no longer disappearing into political prisons, torture chambers, and mass graves&...


If you still need another reason to vote progressive in 2008, consider what our current non-progressive administration i...


Almost a month ago now, Senator Diane Feinstein introduced S.594, the Cluster Munitions Civilian Protection Act of 2007,...


Need another reason to vote Progressive in 2008? Let's make it simple. Two sentences: 1. "I will restore ...


One of the most fundamental differences between progressives and right wingers is that progressives recognize the proble...


Compare the difference between the right wing vision for work and the environment and the progressive vision for work an...


An important reason to vote progressive in the 2008 elections, and not along a partisan Democratic line, is that if you ...


It will be spring in a few days, but in the world of climatology, winter is measured in terms of calendar months: Decemb...


Republican Presidential Candidate Duncan Hunter is running on the basis of his ties with companies that profit from war...


If you're thinking of voting for a "moderate" ticket in 2008 rather than for a progressive ticket, you...


Congressman Tom Tancredo has a habit of being bizarre. A couple of years ago, he latched onto a kooky conspiracy theory...


Under the stewardship of right wingers, development has been relatively unchecked, pursued without sensible restrictions...


The disdainful attitude Republican politicians have toward the American people was shown in its plain ugliness today, wh...


Reading a 2006 article from the CBC this morning, I came across a confirmation of the old science by the new science. A...


As of this afternoon, we have reached the mark of 150 reasons to elect a progressive President in 2008. We're at ...


This weekend brings the surprising news that Secretary of Defense Robert Gates and Secretary of State Condoleeza Rice ha...


Yesterday, Republican presidential candidate Senator John McCain went to Iraq to try to justify his support for an escal...


Rudolph Giuliani is a powerful political insider with connections deep in the heart of the Republican Party. He knows l...


After they were released from Iranian custody, 15 British soldiers contradicted their earlier televised confessions of h...


I should have known that it was too good to last. Just when we saw Senate Majority Leader Harry Reid team up with Senat...


Hundreds of thousands of people gathered in the Iraqi city of Najaf today to demand that the United States take its sold...


Frederick Douglass was a man who was forced to break the rules of society in order to obtain an education. So, when he ...


One more reason to elect a progressive President in 2008: Yesterday, in a debate with John Kerry, former Speaker of the ...


On Halloween Day back in the year 2000, the Dallas Morning News proclaimed, "Bush will restore honor and integrity...


If the federal government of the United States of America allows tens of thousands of animals that are listed as endange...


I love reading research results that are published on Fridays, because you know the results aren't what the people...


Right wingers accuse environmentalists of valuing the welfare of animals over the welfare of people. It's a concl...


I don't like right wing ideology, but that doesn't mean I refuse to read what right wingers have to say abou...


Newt Gingrich likes to portray himself as a thinking Republican, someone who studies the situation and comes up with int...


Republicans often try to convince the rest of us that Rudolph Giuliani would be an acceptable presidential candidate for...


While the mainstream news media were busy hyperventilating over an isolated, idiosyncratic incident of violence this wee...